Did you miss TLL's Valentine's Digi Day? It's not too late to join the challenges. We have four challenges - Valentine's card with no hearts, Red, white and pink color challenge, use a Valentine's punch, and Sweets for the Sweet.
I've organized the Sweets for the Sweet Challenge! Your challenge is to use an image with a sweet theme. This challenge is sponsored by Fresh Brewed Designs and the winner will recieve 4 digis of their choice! The challenge is open until Wednesday at 11:59 pm.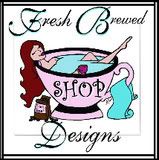 Here are some projects to inspire you:
I took a Prima Flowers tin and repurposed it to make this sweet container. The image isCupcakeby The Stamping Boutique - yummy!
For these mini-cards, I used Sweet On You from Fresh Brewed Designs. This image just screamed for glitter, so I used iridescent Stickles on the whipped cream and silver glitter glue on the spoon.
Happy Crafting!
Jennifer