BLOG CANDY CLOSED!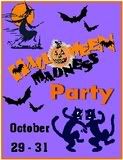 Have you heard about the
Halloween Madness Party
at
I Did It Creations Forum
? There's going to be games, prizes, and an all night crop!
In honor of the party, I'd like to offer a small blog candy. The candy has 16 6"x6" papers (these are cut down from 12"x12" papers), 2 rubber stamps, 1 polymer stamp, brad flowers, 7 yds of Halloween ribbon, and 12 assorted Halloween brads.
What do you have to do to win you might ask? The requirements are pretty easy.
1. Post a link to the candy in your sidebar or on a blog post.
2. If you like what you see here, become a follower of my blog (not required).
3. Leave a comment on this post.
Anyone is eligible to enter. The candy will close on Sunday, Oct. 24th at noon (Central Time).
Happy Crafting!
Jennifer